Chemical Peel Taunton
Here at The Skin Care Clinic, we are proud to use AlumierMD® chemical peels at our Taunton Skin Care Clinic. These amazing medical grade skin chemical peels can be used on all skin types and help to drastically improve the appearance and texture of your skin. There is a chemical peel for everyone! Giving your skin a bright, youthful glow! Perfect before an event or a pick me up treatment!
Chemical peel in Taunton encourage exfoliation of dead skin cells by sloughing them off which in turn forces the body to quickly replenish these dull cells with fresh new cells.
Chemical peels can help treat:
● Improve skin firmness and tone
● Improve skin texture
● Reduce fine lines and wrinkles
● Reduce pore size
● Reduce breakouts and acne-prone skin
Our AlumierMD® chemical peels in Taunton are superficial to medium depth peels and we recommend a course of chemical peels which will offer progressive and gradual results. This means there is little to no downtime. Each chemical peel treatment can be hyper-customised with pre-treatment masks and post-treatment serums to suit your individual skin needs giving you the best results.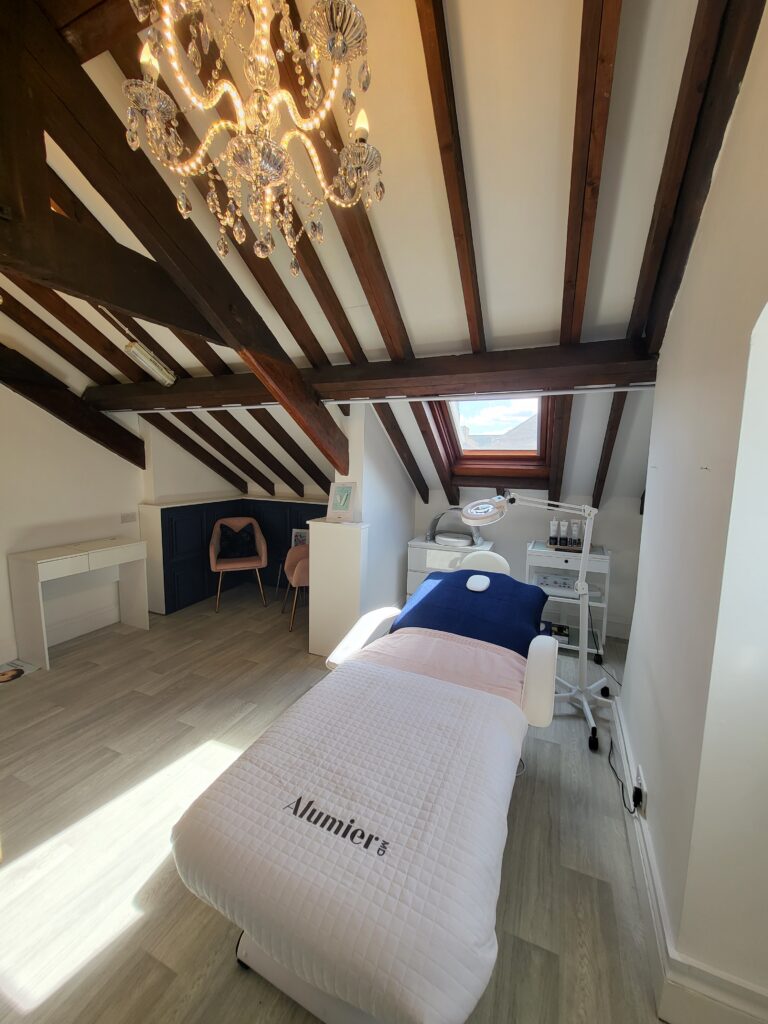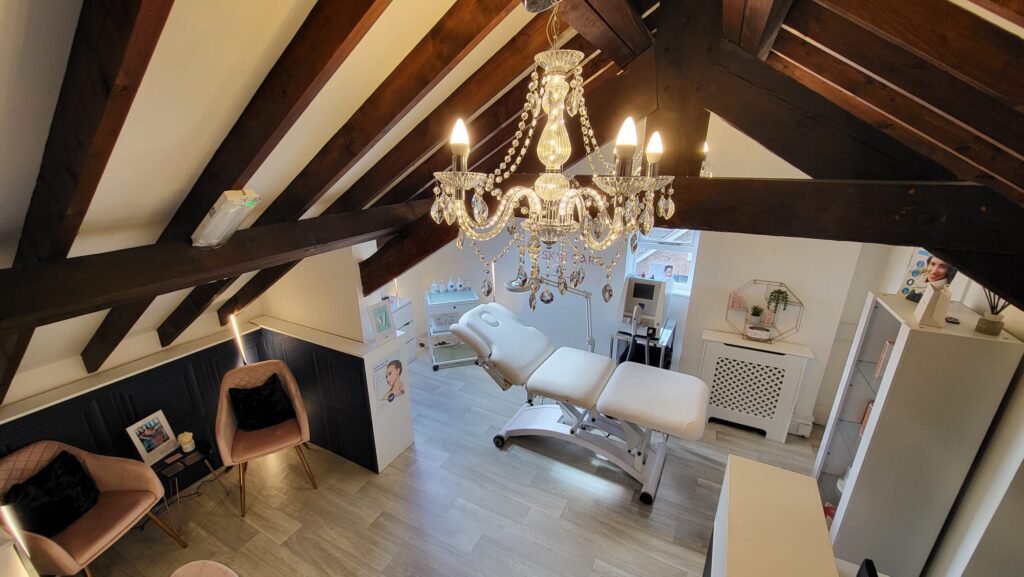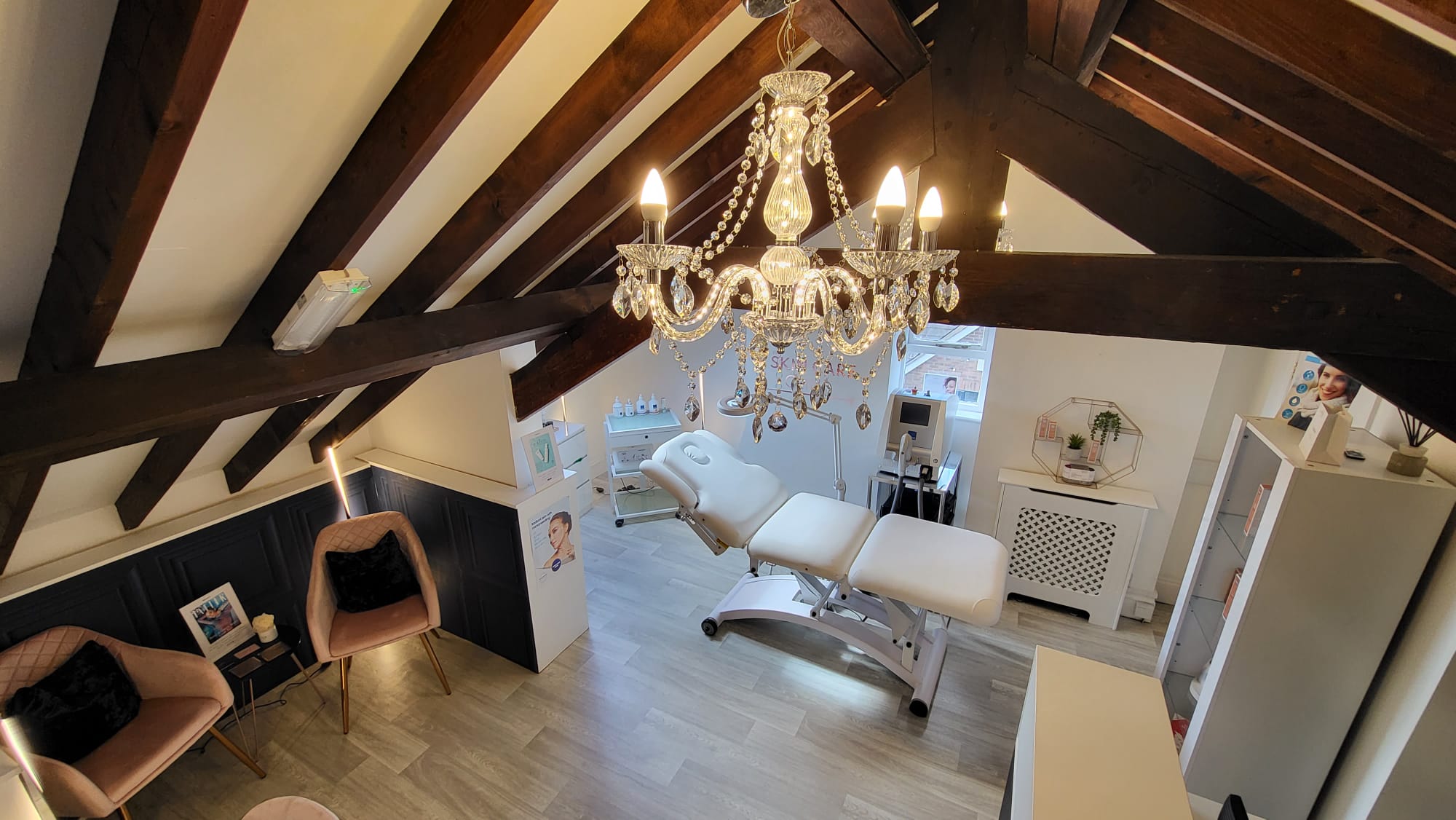 What is a Chemical Peel?
A chemical peel is a skin treatment in which a solution is applied to the body that
removes dead skin cells and will stimulate the growth of new cells. The aim is to
improve the appearance of your skin by evening out skin tone and helping with
scarring, smoothing wrinkles and improving pigmentation caused by sun
damage. A Chemical peel Taunton can be booked only with a skin consultation.
What is the process of a Chemical Peel Treatment?
All clients are seen for a thorough consultation and skin analysis to check suitability for treatment and ensure you have a personalised treatment plan for your skin needs and concerns. The very best results are achieved when clients have a professional chemical peel treatment plan along with appropriate home care products as these will work in synergy together to improve the health and beauty of your skin.
You will be given detailed pre and post care instructions to ensure you gain optimal results from your chemical peel treatment.
During the chemical peel Taunton treatment appointment your skin will be cleansed and your treatment is hyper-customised with pre-treatment masks and post treatment serums.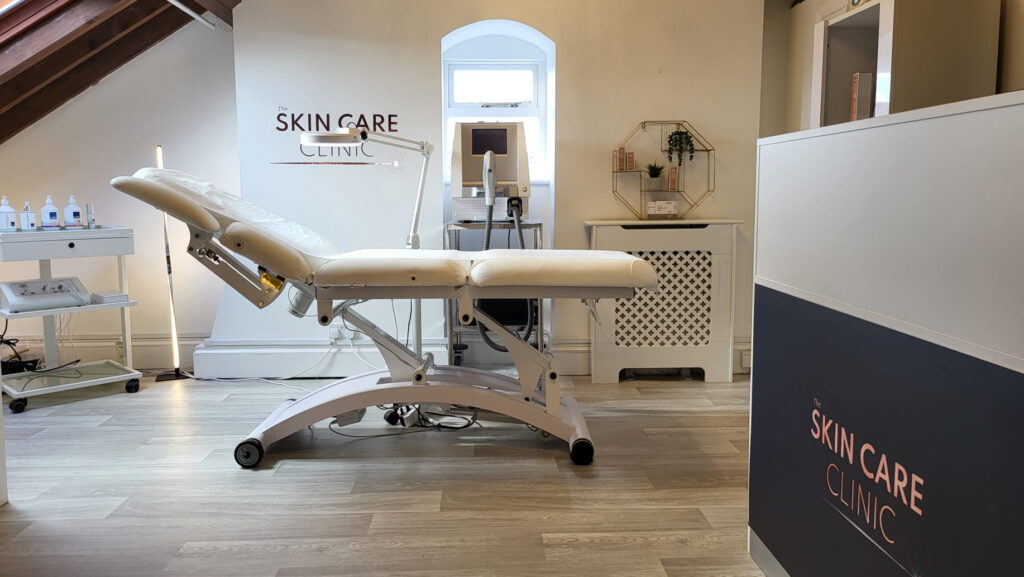 What happens after a Chemical Peel Treatment?
AlumierMD® chemical peel treatments have very little to no downtime but create dramatic results.
For the first 24 hours following your treatment you may experience redness, slight swelling, itchiness or sensitivity. Over 3-5 days your skin may feel tight, temporarily feel dry or have some mild flaking or skin peeling. The amount of peeling does not reflect the efficacy of your treatment.
Following treatment, you will be asked to avoid excessive heat, makeup, self tan products, direct sun exposure, ice or ice water on the treated area for the rest of the day.
Saunas, hot tubs, excessively hot showers, aerobic exercise and swimming should be avoided for 2 days. If you use AHA/BHA skin care you should avoid the use of this for 3-5 days.
You will be given a post procedure kit which includes a cleanser, recovery balm and SPF which is essential to use for 5-7 days following your chemical peel.
You will start to notice the results of your chemical peel on day 6 and you will notice a fresh, more radiant appearance to your skin.
Beautiful skin doesn't happen overnight. A single chemical peel can provide the immediate effect of bright and radiant skin. However, more significant results in treating textural issues, fine lines and inflamed acne take time.
Frequently Asked Questions
Unlike mechanical exfoliation which physically smooths and lifts dead skin cells off the skin, chemical exfoliants found in chemical peels lower the pH of the skin towards acidic. This acidic environment dissolves specific skin components. Our superficial chemical peels mainly dissolve desmosomes (the keratin, Velcro-like bonds) within the upper epidermis that keep dead skin cells attached to the face and body. This, in turn, triggers replenishment of new skin cells in the lower layers leading to skin rejuvenation. These released skin cells don't leave the skin right away but later 'peel away' in the days that follow. The deeper the exfoliation, the more 'peeling' is likely. Here at The Skin Care Clinic we used Alumier MD chemical peels which are superficial to medium in depth. They help to thicken the epidermis, increase dermal volume, even skin tone and stimulate collagen. The result is a smoother and more radiant complexion.
AlumierMD Glow Peel AlumierMD Glow Peel combines lactic acid, salicylic acid and resorcinol, creating a multipurpose resurfacing solution effective in minimising the appearance of fine lines, wrinkles and hyper-pigmentation issues like age spots, discolouration and uneven skin tone. This formula exfoliates dead skin cells and stimulates cell renewal. To suit individual needs, Glow Peel can be customised by strength by numbers of layers.    Treats ●    Dry, Oily & Dehydrated skin ●    Acne ●    Hyper-pigmentation ●    Aging AlumierMD Radiant 20/10 AlumierMD radiant 20/10 resurfacing peel contains a powerful combination of salicylic acid and lactic acid which improves skin tone and texture by exfoliating dead skin cells and speeding cell turnover. The multipurpose resurfacing skin peel reduces acne pimples and minimises the appearance of fine lines and wrinkles, large pores, hyper-pigmentation and sun damage.   Treats ●    Acne ●    Hyper-pigmentation ●    Uneven skin tone ●    Congestion ●    Open pores & Oiliness AlumierMD Radiant 30 The AlumierMD Radiant 30 is an alpha hydroxy acid resurfacing peel containing lactic acid to exfoliate dead skin cells. Boost cell turnover and stimulate collagen, improving skin texture and tone. This multi functional peel targets multiple skin conditions, including fine lines and wrinkles, discoloration, sun damage and large pores.    Treats ●    Hyper-pigmentation ●    Uneven Skin tone ●    Dull skin ●    Line & wrinkles AlumierMD Vitamin A Boost The AlumierMD Vitamin A boost is a potent and pure retinol and lactic acid resurfacing treatment. It reduces the appearance of fine lines, wrinkles and hyper-pigmentation by boosting collagen production and speeding cell turnover, creating a more radiant and even-toned complexion. Ideal for mature or sun damaged skin.  Treats ●    Acne ●    Hyper-pigmentation ●    Aging AlumierMD Detox Clear The AlumierMD Detox Clear contains salicylic acid and lactic acid for excellent pore penetration and exfoliation. Salicylic acid penetrates into the pore and exfoliates dead skin cells and excess sebum. Lactic acid exfoliates dead skin cells and hydrates. Eucalyptus provides strong astringent properties. Together, they work to smooth skin, minimise pore size experience, reduce acne and prevent new pimples from forming.Treats ●    Acne ●    Congestion
Everybody can experience different levels of sensation during a chemical peel. When the chemical peel is applied you may feel a tingle or slight stinging feeling to the skin, some people may not notice any sensation at all. During your treatment we will continue to check your 'tingle' level on a scale of 1-10, if you reach a level higher than a 6, it indicates an end point to your treatment.
Our AlumierMD chemical peels are superficial to medium chemical peels and some people may not notice any peeling or shedding of the skin but it is possible to experience mild flaking or shedding. Most people notice a tightness and dryness to their skin following a chemical peel rather than 'peeling'. The level of peeling does not determine the efficacy of a chemical peel.
Chemical peels can be done to most body areas, not just the facial area. These include chest, back, arms.
A hyper-customised chemical peel treatment, which includes pretreatment masks and posttreatment serums usually takes 45-60 minutes in total. How much does a chemical peel cost?


AlumierMD Radiant 30 peel - £75


AlumierMD Radiant 20/10 peel - £75


AlumierMD Glow Peel - £95


You will save 10% when a course of 3 or 6  AlumierMD chemical peels are booked in advance. If you have any further questions about our chemical peel treatment please contact us.